In this page you will find:

Description Specifications Shipping Details
DH-10 Boat and RV Dehumidifier
Since 1993 the the DH-10 boat dehumidifier - designed especially for boats - has been satisfying the needs of the boating and RV community. Whether you need a dehumidifier during the boating or RV season for improved comfort or you need to control mold and mildew growth, or to fight condensation during mild weather, this dehumidifier has all the features you are looking for such as energy efficient, stainless steel, compact design. You'll like that you don't have a bucket on the DH-10 marine dehumidifier to empty. Better than air conditioning for humidity control! Dry air is more efficient, economical and reliable for your boat or RV!

Click the dehumidifier picture to enlarge or see more pictures

DH-10 Marine Dehumidifier

| | |
| --- | --- |
| | Model: DH-10 |
| | A compact, light, marine dehumidifier specifically designed for Boat, RV, Industrial and Special Applications. |
| | Cabinet: Powder coated steel cabinet with an all stainless steel base. |
| | Color: the paint is a neutral beige color |
| | Capacity: 10 ppd |
| | Size: Height: 12.5", Width: 12", Depth: 15.5" |
| | Horsepower: 1/6 |
| | Watts: 150 Volts: 115 AC |
| | And continuous draining means there is no drain pan to empty when full. |
| | Improves Personal Comfort and air quality by reducing moisture and inhibiting mold and mildew growth. |
| | Made in the USA & Built to Industrial Standards From Quality Components: Tecumseh Compressor, Honeywell Humidistat, Morrill Motors Fan/Fan Motor |
| | One year manufacturers warranty. |
| | 30 day money back guarantee |

see also:

DH-10 Dehumidifier Features Table
Discontinued: Please note that the McIntire Company no longer produces the DH-10 Dehumidifier. If you would like a dehumidifier similar to the DH-10 we recommend the
Dry Pal manufactured by Mermaid Marine http://www.mmair.com/marine_division/dehumidifiers/dry_pal_dehumidifier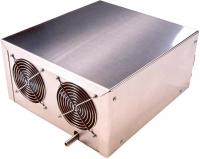 Dry Pal
or the

CD30
CD30 Manufactured by EbacUSA http://www.ebacusa.com/cd30.htm
Hear from a customer ...
I have a 34 foot sailboat in Ventura Harbor and sail it weekly. Ventura is
blessed with a year round boating climate and a nearby wonderful cruising
ground, the Channel Islands. We are also cursed with summer fog. The marine
layer gets very thick for weeks at a time and humidity is often in the 90%
range.
Shortly after moving here from a much dryer Utah, I noticed mold growth on
my teak interior. I decided to do something about it; I invested in several
"flying saucer" type air driers and used them with no success. Finally I
decided to get serious; I washed the moldy areas with 10% bleach solution,
ran a heater and then bought a DH-5-1 dehumidifier. Bringing my inside
humidity down to 45% meant kept the mold away for good and for 2 years my
DH-5-1 has been faithfully doing its job.
I ran the drain hose to my sink and never have to worry about empting a
drain pan. The humidity dial lets me choose the dryness level inside the
boat. I keep the stainless finish clean and shiny with a light cleaning of
WD40. I would highly recommend the DH-5-1 and eDehumidifer.com as the place
to get one. They were all you could hope for in an internet company.
JS
Ventura, CA
Improve Air Quality
Helps to prevent Mold and Mildew Growth
Helps to Eliminate Musty Odors
Protect your Valuable Investment and Equipment
Reduce Condensation
Features: If you are looking for a dehumidifier for a boat or RV you'll love these features.
Energy Efficient
Power use equivalent to a 150 Watt bulb
Cabinet
Powder coated steel cabinet with an all stainless steel base.
Compact & Portable
15.5"L X 12"W X12.5"H
Easy to Store in closets on board when not in use
Continuous Draining
No bucket to empty drains directly into sink, hatch, bilge, thru-hull, sump, or condensate pump

Lightweight
Only 38 lbs.

Carrying Handle
Easy to Handle
Ease of Portability not found with other units

Automatic Humidistat
Automatic controls humidity at level you preset
20-80%RH
No Wheels or Legs
Will sit flush on countertop or shower floor

Ease of Use

Designed for Boats and RVs by a Boat Owner
Specifications

Weight-38 lbs
Dimensions-
15.5" L x 12" W x 12.5" H

Energy Use-150 Watts 115V
Uses AC Power
Humidistat-20-80%RH humidity level selection
Operating Temperature Range (efficiency based on, and limited by the nylon ribbon sensing element in the humidistat)
50°F to 125°F (10°C to 52°C). In addition frosting begins around 40°F which further limits the ability of the unit to remove moisture.
Application Load
Less than 1000 sq. ft.
Capacity: 10 Pints - adequate for boat and RV Applications
Circulation-150 cu. ft. of air per minute
Evaporator-stainless steel tubed
Compressor-1/12 h.p., high efficiency refrigerant
Refrigerant- R134a (cfc free)
UL Approved
Want to see more specs click here....
or more pictures of our boat and rv dehumidifier .... click here
1. Features to look for in a dehumidifier for your boat or RV
- our dehumidifier has all these features
-The Marine Dehumidifier Advantage vs. name brand dehumidifier designed for home use from your Department store or home center.
- For comparing marine products designed to remove moisture.
3. Table of Features DH-10 Dehumidifier features in a table form.
More info can be found in the support section
including manual and FAQ's
Carrier: UPS Ground
Cost: aprox $25 USD
Shipping carton Dimensions: 18"L x 18"H x 16"W
Shipping Weight: 38 lbs
Hear from a customer ...
I purchased the DH-5-1 as a replacement for a larger and much heavier unit that was used to keep my motorhome dry and mildew free during periods of storage in Florida's long hot and humid summers. Because the DH-5-1 is portable and light it is very easy to put into, or remove from the motor home as required. I simply set the unit over the sink so that it drains there rather than requiring a drain hose to the outside as my old unit did. The DH-5-1 has also used to improve the sleeping environment on nights when the air conditioner does not run enough to properly dehumidify the coach interior. This is great product.
JH
Malabar, FL
Discontinued: Please note that the McIntire Company no longer produces the DH-10 Dehumidifier. If you would like a dehumidifier similar to the DH-10 we recommend the
Dry Pal manufactured by Mermaid Marine http://www.mmair.com/marine_division/dehumidifiers/dry_pal_dehumidifier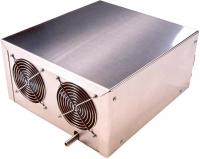 Dry Pal
or the

CD30
CD30 Manufactured by EbacUSA http://www.ebacusa.com/cd30.htm