Mold and Moisture Control Resources
We have a boat dehumidifier - designed especially for boats - our dehumidifiers have been satisfying the needs of the boating community since 1993. Whether you need a dehumidifier during the boating season for improved comfort or you need to control mold and mildew growth, or to fight condensation during mild weather, our dehumidifier has all the features you are looking for such as energy efficient, continuous draining, compact design. These marine dehumidifiers eliminate the need for a bucket. Better than air conditioning for humidity control! Dry air is more efficient, economical and reliable!
The Model DH-10 Boat Dehumidifier

Model: DH-10

| | |
| --- | --- |
| | A compact, light, dehumidifier specifically designed for Boat, RV, Industrial and Special Applications |
| | Cabinet: Powder coated steel cabinet with an all stainless steel base |
| | Color: the paint is a neutral beige color |
| | Capacity: 10 ppd |
| | Size: Height: 12.5", Width: 12", Depth: 15.5" |
| | Horsepower: 1/6 |
| | Watts: 150 Volts: 115 AC |
| | See all details, features and specifications |

Discontinued: Please note that the McIntire Company no longer produces the DH-10 Dehumidifier. If you would like a dehumidifier similar to the DH-10 we recommend the

Dry Pal manufactured by Mermaid Marine http://www.mmair.com/marine_division/dehumidifiers/dry_pal_dehumidifier

Dry Pal

or the

CD30

CD30 Manufactured by EbacUSA http://www.ebacusa.com/cd30.htm
see also our
1. Marine Dehumidifier Comparison - compare the DH-10 to home use dehumidifiers
-The Marine Advantage vs. name brand dehumidifier designed for home use from your Department store or home center.
- For comparing marine products designed to remove moisture.
2. Features to look for in a dehumidifier for your boat or RV
3. Table of Features DH-10 Dehumidifier features in a table form.
5. Program for Mold Control in Your Boat or RV
Hear from a customer ...
I am pleased to confirm that I am completely satisfied with both my DH-5-1
Dehumidifier and your firm's services in selling and delivering the unit to
me.

I have used the unit on two sailboats to prevent mould from starting and to
keep the humidity down generally within the boats. My 53 ft Beneteau has air
conditioning but the water collected by the A/C winds up in the bilge which
stays wet even with an automatic bilge pump. Also the electric bill for the
A/C is much higher than with the DH-5-1 which also has the advantage of not
needing a supply of cooling water inviting clogging of the A/C water filters
over time.

The unit keeps the interior of a 53 foot sailboat dry in a very humid
climate.

Sincerely

HP
St. Petersburg, Florida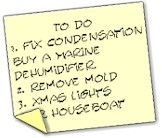 BENEFITS
Improve Air Quality
Helps to prevent Mold and Mildew Growth
Helps to Eliminate Musty Odors
Protect your Valuable Investment and Equipment
Reduce Condensation
FEATURES
Energy Efficient
Cabinet: Powder coated steel cabinet with an all stainless steel base.
Color: Neutral beige color
Compact & Portable
Continuous Draining
No bucket to empty
Lightweight
Carrying Handle
Automatic Humidistat
No Wheels or legs
Ease of Use
Designed for boats and RVs
MORE INFO
More info can be found in the support section
including manual and FAQ's